As Chairman of the Illinois Chapter of the National Corvette Restorers Society, I would like to take this opportunity to welcome you to our Website! Please take time to browse through the photographs of our events and read the articles in our newsletter. Then consider coming to one of these activities to see what our club has to offer!

The National Corvette Restorers Society was organized in 1974, with the original goal being a hobby group that is open to persons interested in the restoration, preservation, history and enjoyment of the Chevrolet Corvette. Then, starting in 1978, Chapters were organized due to the efforts of Carl Strohm and Tim Partridge (both members of our chapter), with the goal being to hold some local meets for members that weren't able to travel across the country and attend the National Meets.

Our intent herein is to provide you with all the information that you would like to know about our club activities, as well as the steps you can take to join this outstanding chapter. Please visit out website often as enhancements are continuously being made and event information updated. Don't hesitate to contact me, or any of the Board of Directors listed, with questions you may have concerning our Chapter or the National organization.



Bill
Braun
- Chairman

Illinois Chapter - National Corvette Restorers Society



National Corvette Restorers Society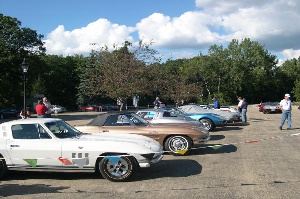 Our 45th Year
Est. 1978

AN NCRS
TOP FLIGHT CHAPTER
2006 -2023

Don't forget to support our sponsors
and advertisers.

Be sure to check out our Events page to see a full list of what's upcoming in our world of Corvettes!

Chapter Events coming up soon:
2023/4 Schedule of Events:

- Dec 3, 2023 - ILNCRS Holiday Party - Villa Oliva

- Feb 3, 2024 - ILNCRS Tech Session - All About detail - Sandwich, IL

- Feb 18, 2024 - ILNCRS Membership Meeting/Kickoff Party - Sandwich, IL

- May 17-18 - ILNCRS Chapter Meet and Judging School - Pontiac, IL